pregnancy massage
Pregnancy can be a wonderful time but as your body is changing and adjusting, it can also result in aches, pains as well as some stress and tiredness. My aim as a therapist specialisin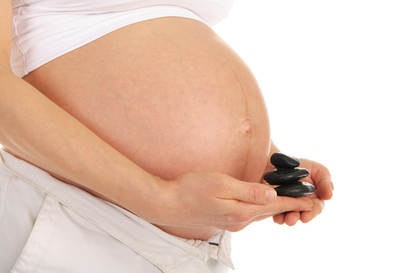 g in pregnancy massage is to support you through this exciting and challenging time by helping to relieve physical discomforts while also calming and soothing you.
Massage during pregnancy has been reported to have a number of benefits for you and your baby. As well as addressing some of the physical discomforts relating to pregnancy such as back ache, swollen ankles and muscular tension, pregnancy massage can aid lymphatic drainage, help stimulate a sluggish digestive system, enhance your relationship with your changing body and shape while also giving you some peaceful, relaxing time to yourself.
To keep things simple and easy for you I offer a mobile service and so can come to your home or workplace with all the equipment needed to give you your massage. Each treatment is tailored to your individual needs and stage of pregnancy. I carry out a full consultation with you at your first appointment to ensure that massage is appropriate for you and then take time at each subsequent appointment to find out how you are so that each treatment meets your requirements at the time.
I am fully qualified in prenatal massage and have been trained to use the appropriate techniques and positions to ensure that your treatment is safe and comfortable. I am very flexible and happy to work around you – so if your treatment needs to be interrupted so you can go to the loo, see to your children or just stretch out, then that is no problem!
Pregnancy massage is suitable after you've had your twelve week scan right up until your baby's birth. If you are having a difficult pregnancy or have certain health problems, massage might not be appropriate for you, or your midwife or doctor may need to give their approval prior to a treatment. However we will talk through this when you make your appointment, and further information on this can be found here.
Dads-to-be, partners and your wider family can also benefit from support at this time and so I offer a range of other massage therapies which can be booked alongside your treatment. Please just follow this link to find out more about other treatments offered.
Your doctor or midwife may have recommended that you have massage treatments as part of your ante-natal care. If this is the case and you need confirmation of your appointment to give to your employer so that you can have paid time off work for your treatments, please let me know in advance and I can supply you with this at your appointment. More information on this can be found here.
I work in and around the Leeds and Bradford area and the treatment price includes travel to your home. If you live outside these areas, a small charge for mileage will be added to the price and this will be agreed with you at the time of booking.
To find out more about the benefits of pregnancy massage and how this treatment differs from regular massage, please do take a look at the frequently asked questions section. And if you'd like to have a chat to find out more or book an appointment, please don't hesitate to contact me - I'd love to hear from you!